Bass guitars 2008
We developed a new model of bass guitar in cooperation with Pavel Ryba
Pavel Ryba bass is based on Futurum model. One SBS pickup, 18V 3 band active, special designed rests, ...
Details and photos will be published as soon as we finish tests of the instrument.


Acoustic guitars 2008
New acoustic guitar models are available - Grand Stage and Jumbo Stage.



Archtop guitars 2008
16" Custom is a new model from our line. The first 16" model with a round cutaway.
Model is available in Bebop or Historic version.


Archtop Bass 2008
We are developing an electro-acoustic bass guitar. This model is based on 17" archtop guitar.
Hand crafted top and back, smaller f-holes and other constructional changes will be applied to reduce feedback.
Piezo pickup, magnetic pickup or combination of both with active mix electronics is available.



Gypsy 2008
We are going to present a complete collection of gypsy guitar in 2008.
Gypsy line contains three models: a steel string model with internal resonator and large "D" hole, steel string model with small oval hole and a nylon string model with an internal resonator and large "D" hole.
All models are constructed according to plans of original guitars from 30´s.



Baritone 2008
A new acoustic long scale (724 mm) baritone guitar was embedded in our catalogue line.
Standard tuning is: H F# D A E H.
Prochazka Custom Guitars recommend L. R. Baggs Hex pickup to avoid string unbalance. This pickup can be combined with SBS six inputs one output, possibly six inputs six outputs mix. The mix enables you to adjust the volume of each string separately.
Ask us for technical details.



Materials 2008
Very rare materials for acoustic and electric guitars are available from 2008.
Offer of materials contains for example: Brazilian rosewood, Koa, Coccobolo, Makassar, Big leaf maple, ...
Ask us for up-to-date offer.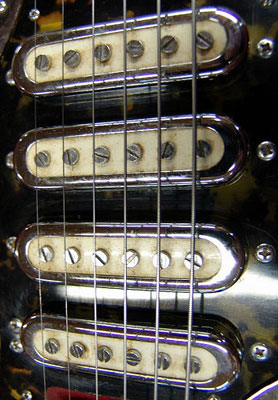 ---
---